Youth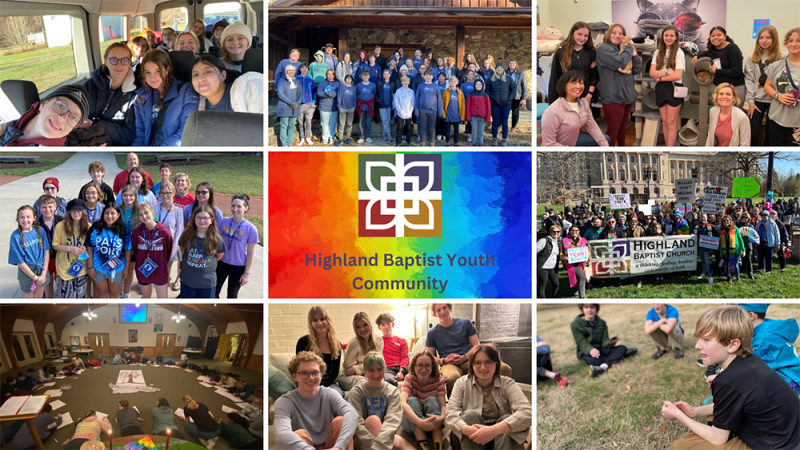 The adolescent journey is one of physical, mental, and emotional transformation. In the midst of these pivotal years, youth need a safe affirming community, authentic meaningful relationships, and caring adults. Highland seeks to offer youth opportunities to discover their identity as beloved children of God, build holy friendships, and connect them to adults who can act as a mirror to point out their potential when they are unable to see it themselves. Ultimately, Highland desires to share God's Transforming Love with youth and equip them to embody Christ's love.
Weekly Schedule:
We would love to have you join us for our weekly youth gatherings as well as worship here at Highland.
Wednesdays:
5:20 pm - 6:00 pm: Fellowship Supper in Fellowship Hall. Click here for more information about Wednesday night suppers.
6:00 pm - 7:15 pm: Wednesday Night Youth Gathering- Games, Bible study, small group discussions, faith formation, and FUN!
Sundays:
8:45 am: Early Worship Service- A smaller but duplicate version of our 11:15 AM worship hour
10:00 am: Sunday Morning Youth Bible Study- Sundays are for fellowship and spiritual formation. We begin with a large group time for fellowship and the occasional feast of donuts and sometimes fruit. We then break off into two separate Bible studies: one for our middle school youth and one for our high school youth.
11:15 am: A formal yet spirited hour of worship
Mentor Groups:
One of the most important parts of youth ministry at Highland is building holy friendship and life-giving community. Groups gather in mentor groups every other week to share their life together and support one another through the good days and bad days. Each mentor group is led by two wonderful adults from our church community. Our current mentor groups are:
Middle School Girls
Middle School Boys
Gender Non-Conforming
All High School
Special Activities
Along with our weekly activities, there are other events and activities that we participate in throughout the year.
PASSPORT Summer Camp
Every summer, Highland takes the youth group to attend Passport Youth Camp. Passport Youth Camp's mission is "empower students to encounter Christ, embrace community, and extend grace to the world." Passport always proves to be one of the best weeks of youth ministry that we have all year long. Youth have the opportunity to connect with God, bond with the youth group, meet youth from around the country, and have a lot of fun! Find out more information about Passport through their website – www.passportcamps.org
Find out about 2023 Passport Camp here.

Fall Youth Retreat
Each year, we take a weekend retreat with youth to a local retreat center in order to draw us closer to the heart of God and to one another as a community. Through fellowship, games, discussion, campfires, and worship, youth are able to connect with God and with the youth group in powerful ways.