Children's Choirs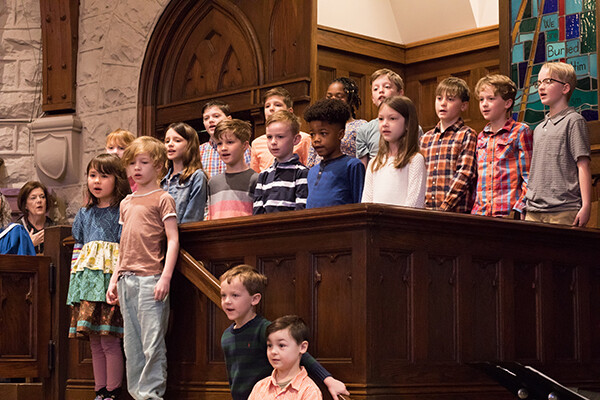 Children's Choirs at Highland Baptist Church are the joyful discovery of God's transforming love through music. The second floor is filled with the sounds of children on Wednesday nights during the school year from 6:00 – 7:15 p.m. A wonderful team of teachers with years of experience guide these young musicians each week. Choirs are provided for walking toddlers through the fifth grade:
Cherub Choir (walking toddler with a parent) Our youngest musicians gather for music exploration with nursery rhymes, movement activities, simple hymns and choruses. These activities help each child experience the steady beat and joy from making music.
Carol Choir (3's, 4's, and young 5's) These energetic preschool children arrive ready to sing and move! They enjoy time to explore and create music with their church friends. The Growing in Grace music curriculum from Celebrating Grace provides songs, hymns, and music for movement.
Chorister Choir (Kindergarten through 5th grade) Beginning at 6:00 p.m. the elementary children gather in small groups for movement, speech, singing, playing of instruments, and music literacy activities and in large group for singing folk songs, hymns, and children's sacred anthems. The Chorister Choir sings in worship during the fall and in the spring on Palm Sunday. They also have an evening Advent program and a spring program to conclude their school year.
The elementary choristers divide by grade level into two groups weekly from 6:45-7:15:
FINAL30: K-3rd graders enjoy folk songs, movement, and playing of instruments through speech patterns to reinforce music skills.
All children are invited to join the fun!