Seasonal Justice Work
Every Advent season we work to bring the message of hope, peace, joy, and love to the forefront. This takes shape in a variety of ways.
Holiday Partnership with La Casita Community Center
In 2022 Highland partnered with La Casita to support their December resource day. Working alongside other community organizations and local volunteers, Highland folks volunteered as La Casita hosted more than two hundred Latinx families at a day-long resource fair. This church-wide effort included collecting and donating hundreds of food items, books, clothing, and diapers.
Alternative Christmas Cards
We sell homemade Christmas cards with a purpose. When a card is purchased in a $10, $15, or $20 increments, a donation of the same amount is made to a corresponding organization. Once the card is purchased, the buyer gifts it to a friend or loved one during the holiday season.
For example, in 2019 the sale of cards supported the Louisville Community Bail Fund. With the money that was raised from the sale of the cards, we were able to help pay the bail for a juvenile. Other organizations for which we have raised money in this fashion include Books and Breakfast Louisville, technology support for schools in Morocco, other migrant needs, and direct relationship building with those whose needs differ from our own.
Our cards in 2022 supported Sweet Evening Breeze, a new local non-profit that supports homeless LGBTQ+ youth; Mattingly Edge; and our church's growing reparations fund.
Highlands Community Ministries (HCM)
Every July we collect school supply items for our partnership with Highlands Community Ministries. In December we work with HCM to collect blankets for local senior citizens and gift cards for families.
Crosses on the Lawn
This special service takes place on Peace Sunday, the second Sunday of Advent annually. Since its inception, nearly 25 years ago, the church laments the prevalence and growing severity of violence in our city, especially gun violence. During our weekend worship services we recite the names of all victims who have been murdered that year in our city. Congregants then hammer a white cross into the ground, one cross for each victim. It creates a memorial that publicly gives witness to our grief and rage.

Here's a video from WHAS11 and their report on the initiative:
WHAS11 report
We also placed crosses on the lawn in 2016 to lament the shooting at the Pulse Nightclub in Orlando, Florida.
Further, we placed crosses on the lawn during the summer of 2020 to mark the deaths of Black and brown citizens at the hands of police around the country. Below is a link to a the story as covered by WDRB 41 in Louisville:
WDRB 41 report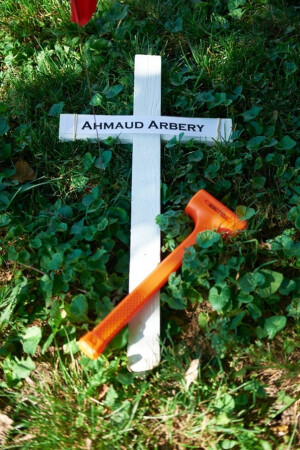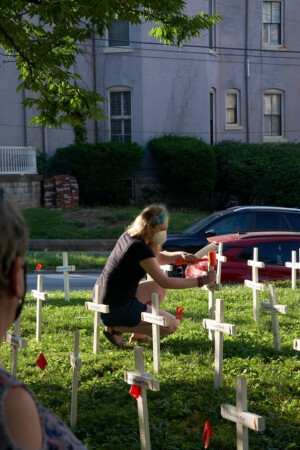 The following prayer was offered by Nancy Goodhue, a member of our Anti-Racism Team.
Merciful and loving God,
We have said their names, and we have called out the un-named ones.
Long before we heard of any of them
you called each one by name,
made them in your image,
loved them—your children.

We grieve the loss of their lives, cut short by violence.
We grieve for the lives they would have had
and all that we have lost because they are no longer with us.
They now rest peacefully in your arms.

We grieve for their families and friends,
whose lives are torn apart and will never be the same again.

We grieve for our African American communities
here in Louisville, in Kentucky, and in our nation,
communities who see again and again their loved ones killed
and don't believe it will ever stop.

We grieve because we are family with our Black brothers and sisters and siblings.
You created us, in all our likenesses and our differences,
to be a loving family,
to care for each other,
to cherish each other.

We who are white grieve and ask forgiveness for remaining in ignorance,
for turning the other way so we did not see what was happening,
for not rocking the boat when we should have,
for thinking everything was okay because we were okay.

We grieve and ask for forgiveness for all the times in our nation's history
when we could have made changes to repair the harm we have done
to Black Americans, but did not.

Now we are in a moment when once again we can make profound changes.

Give us the will, the courage, the wisdom to do whatever it takes
to stop the violence against African Americans.
Give us the will, the courage, the wisdom to do whatever it takes
to bring the African American community—
and all people of color—
to their rightful and equal place at our nation's table,
at Louisville's table.

We ask these things in the name of your son Jesus,
who also was killed by state authorities,
but who rose from death and brings us, even in this difficult moment,
a larger vision of life lived in peace and with justice,
a life lived in your love.
Amen.