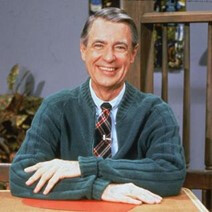 Mister Rogers walks into his television house, all mild-mannered and happy to see us. He assures us that it is a beautiful in the neighborhood. He changes into his homemade sweater and sneakers. The neighborhood is a place of greeting, learning, and social, spiritual development. Mr. Rogers also invites many diverse visitors into his home with an expansive welcome.
Mr. Rogers, a Presbyterian minister and well-known children's advocate, still has much to teach us about our neighbors. In our growing context of religious diversity, you may be curious about what it means to pray to Allah with our Muslim siblings, or meditate alongside our Buddhist siblings, or pray with our Jewish siblings.

Rev. Dr. Tyler Mayfield will lead us in reflecting on the biblical and theological category of "neighbor" with special attention to the ministry of Fred Rogers. Together we will examine biblical passages like Leviticus 19:18 and Luke 10:25-37. Please plan to join us for 5 Wednesday evenings (October 18, 25, November 1, 8, 15) to inquire together about just who our neighbors might be.