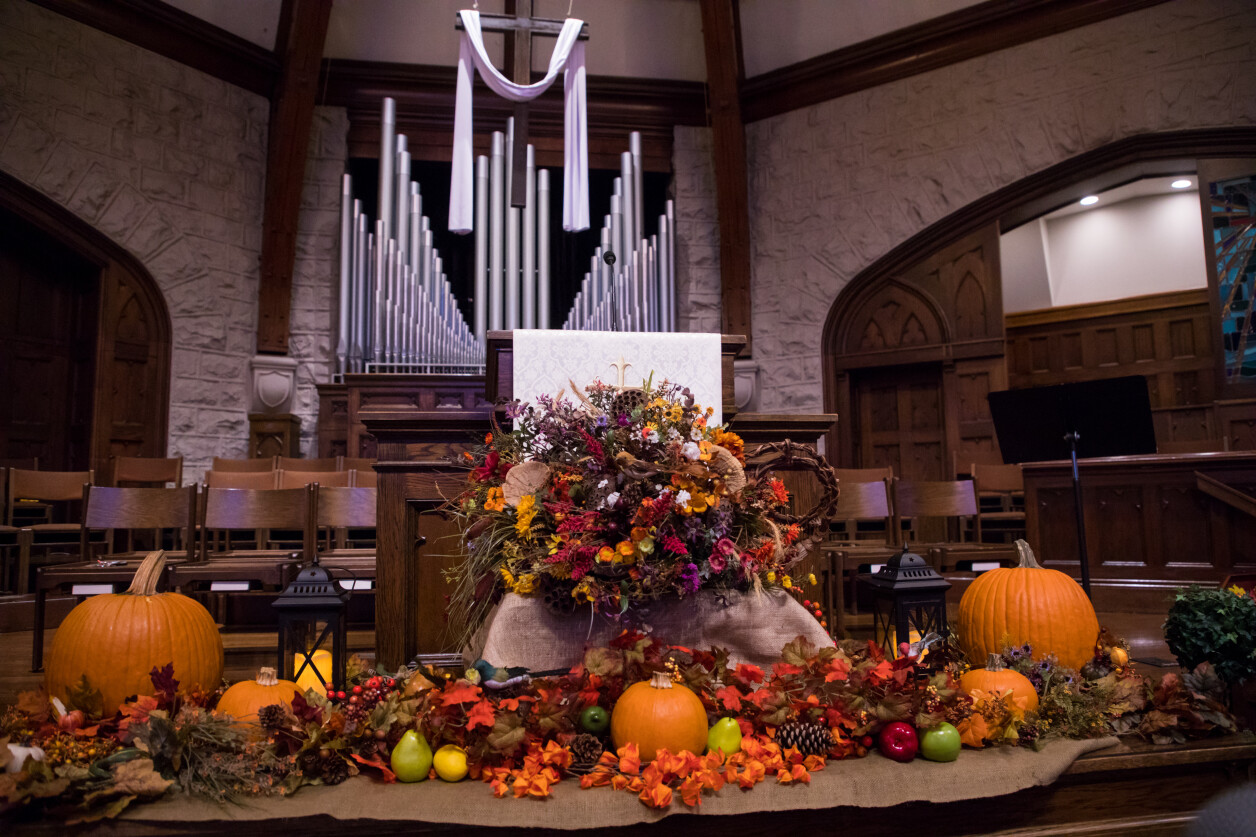 Dear Highland Family,

As the fall season comes to life around us, we continue to explore our themes of Re|Connecting, Re|Engaging, and Re|Imagining through our various ministries at Highland. Specifically, the deacons and ministers have been asking ourselves, "What if we could reimagine the beloved elements of the Thanksgiving Day worship service in a new context?" and we are planning a new way of gathering and expressing gratitude together this year.

Instead of meeting on the actual holiday, we will have a service of Thanksgiving on Sunday, November 19 at 8:45 and 11:15 AM. In lieu of Bible study that morning, all ages are invited to gather for a finger-food breakfast hosted by the deacons and a family-friendly time of reflection on gratitude in the Fellowship Hall at 10:00 AM.

The reasoning for this year's shift is multi-faceted. Logistically speaking, we won't have access to our kitchen during renovation, so having a freshly made breakfast on Thanksgiving morning is not feasible this year. Second, Pastors Mary Alice and Renee are not yet back to work full-time because of their ongoing recovery efforts. As we prepare for the holidays, it feels wise to streamline our ministerial programming and worship calendar to approach this season with the energy it deserves without asking too much of our pastors and lay leaders.

However, the reality is that this conversation about a potential shift in the Thanksgiving service began months before Mary Alice and Renee were away or the kitchen was out of commission. Our Thanksgiving tradition is beloved for those who are able to come on Thanksgiving morning, but a good number of the congregation has never been able to experience this tradition due to their own family's needs, travel, and holiday commitments. Further, it requires a significant sacrifice from our staff and lay leaders to give up time with their own families and loved ones every year on Thanksgiving Day. Our hope is to create space for more of the Highland family to participate together in this beloved ritual while also honoring time that we all need for rest and care on this day of gratitude.

Of course, there are important elements of the Thanksgiving service tradition that we don't want to lose in this year's transition. We absolutely want to continue the time of sharing our gratitude with one another, which we will do together in the Fellowship Hall that Sunday morning. Further, we will still collect the offering for Habitat for Humanity at the close of both Sunday services. Lastly, we as a church family want to continue to offer space for those who may not have a place to go on this holiday. We hope that if there are folks in your circles who need welcome this year, you will consider inviting them to join us on Sunday as well as to your own celebrations at home.

We know that with new traditions comes change and uncertainty, but also space for new possibilities to come to life among us. Please know that we will continue evaluating this particular shift after this year. Thank you for all the ways you support your deacon body, ministers, and worship leaders. We hope you will join us on Sunday, November 19, as we express our gratitude together.
With Thanksgiving,

Tyler Swim, Deacon Chair
Karen Park, Deacon Vice-Chair
Mary Alice Birdwhistell, Renee Purtlebaugh, Lauren Jones Mayfield,
Justin Sizemore, Paul Henderson, Walter McWhorter, Pastoral and Administrative Staff