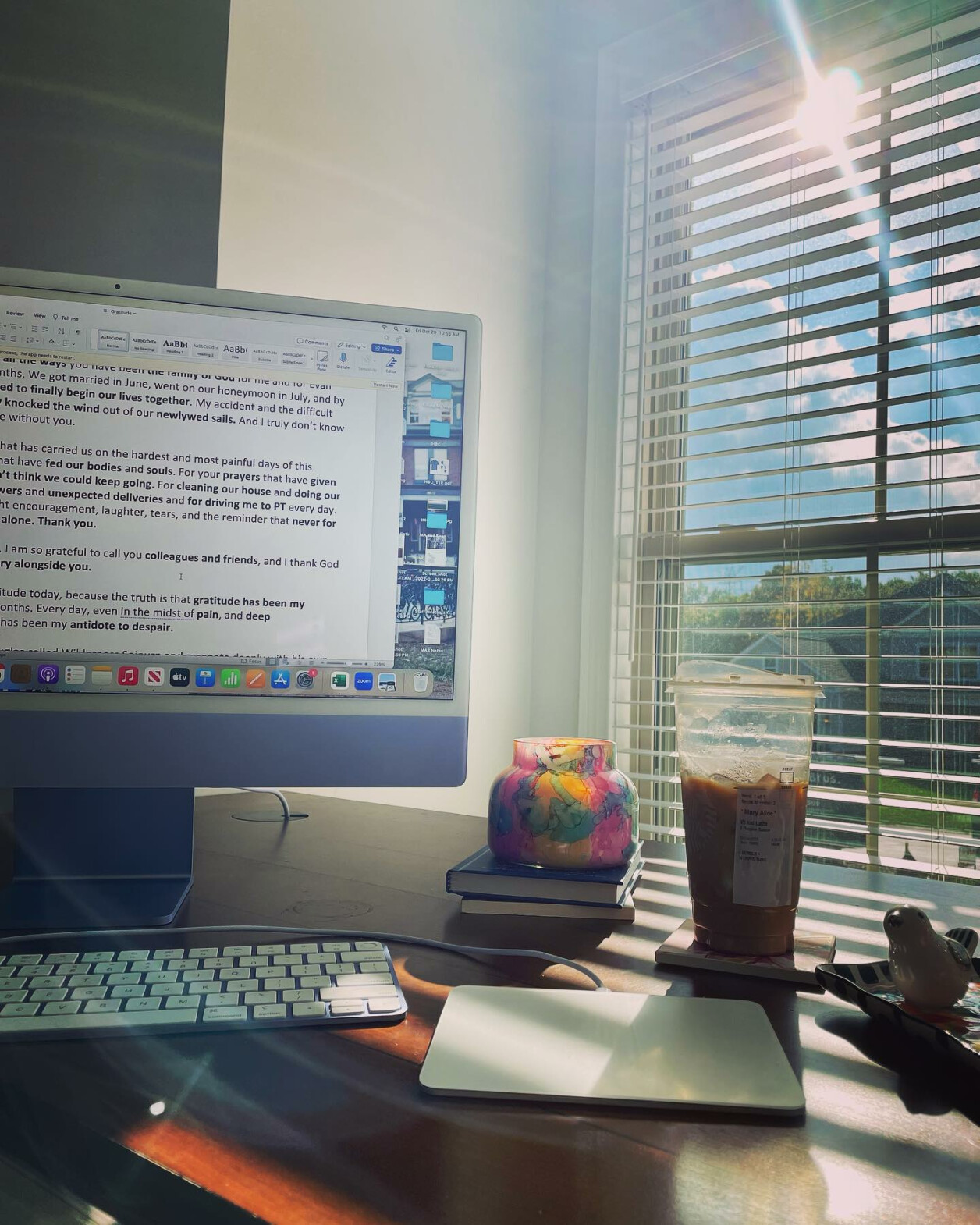 Highland, it was SO good to be back in the pulpit with you on Sunday! As I shared then, the first word, and the most important word I want to say to you right now is "thank you". Thank you, Highland, for ALL the ways you have been the family of God for me and for Evan over the past several months. For those of you who don't know us (because I saw SO many news faces on Sunday), we were married in June, went on our honeymoon in July, and by the beginning of August, Evan had finished residency at UK, moved to Louisville, we moved into our new home and were so excited to finally begin our lives together. My accident resulting in multiple broken bones and the difficult days that followed nearly knocked the wind out of our newlywed sails. And I truly don't know what we would have done without you.

So, today, from the bottom of my heart, I want to say thank you to our beloved and steadfast and fiercely faithful church family. Thank you for your Love that has carried us on the hardest and most painful days of this journey. For meals that have fed our bodies and souls. For prayers that have given us strength when we didn't think we could keep going. For cleaning our house and doing our laundry and beautiful flowers and unexpected deliveries and for driving me to and from PT 3 days a week right now. For cards and notes that have brought encouragement, laughter, tears, and the reminder that never for one second were we ever alone. Thank you.

And to the staff – I love you all, I am so grateful to call you colleagues and friends, and I thank God for the gift of doing the hard and holy work of ministry alongside you. You stepped in for me in ways big and small over the past 2 and a half months, and you cared for and continued the ministry of this congregation so very well. Thank you!

I'm thrilled to share that I am back to full-time work at Highland, although I'm not quite back in the office as I continue physical therapy and am not yet able to drive. I'm able to do a good deal of my work from home right now, which also allows me to rest and/or do daily exercises as needed. I also regularly Zoom in to meetings with staff and lay leaders throughout the week.

One of the benefits of PT is being able to see tangible results each week, which is especially valuable in a profession in which we often work in the intangibles! And I'm able to see visible results of my continued improvement and healing every week right now. I'm hopeful that I will be back to more of the day-to-day life of the church in the next few weeks!

~ Mary Alice Birdwhistell