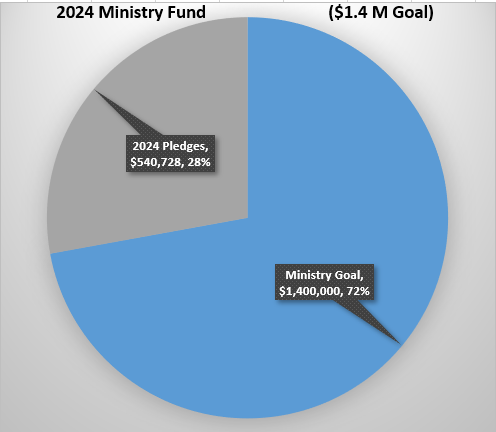 During our Quarterly Church Conference on October 29, our Finance Ministry Group provided an overview of our current financial position and the 2024 budget. As we've seen in our weekly newsletter, our income is lagging behind our expenses, more so than in past years. While this wasn't unexpected to a degree, given that donations toward the Annual Ministry Fund usually drop when a significant Capital Campaign is underway, the shortfall did impact the preparation of our 2024 budget. It was clear to our Finance Ministry Group that, with the level of current giving, budget cuts would be necessary in order to truly be good stewards with your donations. All bodies of the church involved in the budget, Finance Ministry Group, Personnel, Staff, and Mission Groups, have done some hard and heavy work in preparing a budget (which is still in process at this time) where expenditures more closely align with realistically estimated revenue. They have had to make some very tough decisions, eliminating staff cost of living increases while attempting to maintain the benefits available without extra cost, reducing mission spending, and thinking outside the box to continue our ministries without disruption with less financial resources. Even with the cuts to the present version of the budget, as it stands now 2024's budget exceeds 2023's budget. Another consideration is our reserve funds. Last year's budget had a line item in which our reserve funds would be needed to cover anticipated expenses per our budget. We really can't continue to pull on our reserves to fund our operating expenses; it's best for HBC to live within its financial means, just as it is for us individually.


These words are not meant to bring fear, for our beloved Highland is in far better shape than many other churches at this very chaotic time. We are growing! We are a vibrant congregation! We are doers of the word and not hearers only! So, what can we individually do to help HBC's financial position improve now and reduce the need for additional budget cuts for 2024? You are already helping by continuing to turn in your pledge cards and giving more generously. As of Sunday, our total pledges increased to 100 and the pledged amount went up to $540,728. While an increase from last Sunday's total is wonderful news, we remain behind 2023's total pledges and pledged amount at this point in commitment season. Prior to 2023, we were accustomed to receiving about 200 pledges. We are asking every person that calls Highland home to think creatively, outside the box just as our leaders have, in order to increase giving to reduce the financial gap between income and expenses we currently have, to make a pledge toward 2024's Annual Ministry Fund, and to extend and/or increase your Sacred Space commitment.

Is there something you could do without in your personal budget to find a path to increase your generosity to Highland? Every pledge, no matter the amount, will help our leadership better gauge our 2024 revenue and finalize a budget for recommendation. If you give consistently without having made a pledge, it would be so helpful if you would pledge what you reasonably expect to give in 2024 so that our leaders will not have to make further budget cuts. Please know that if something should happen and you are unable to fulfill your commitment, there's no judgment, no condemnation, no calls from a collection agency - EVER! Always remember that EVERY GIFT, no matter the amount, is deeply appreciated and will help to close the gap between our income and our expenses.
~ Cheryl Priddy and the Faithful Giving Ministry Group